.
" I always thought good photos were like good jokes. If you have to explain it, it just isn't that good."
- Anonymous
.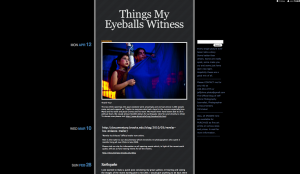 For current postings and sightings from my camera, please visit my blog
"Things My Eyeballs Witness" at  http://jeffjohns.tumblr.com
.

Social Media, Recent Articles and Interviews:
I feel kind of silly putting up links to things such as twitter as well as articles I've written or been quoted in, but after all you are in the "blog and extras" tab of my website.
.
2010 Chile Project: http://documentary.brooks.edu/chile
2009 India Project: http://documentary.brooks.edu/india
Pop. 2,275 Official Website: http://www.pop2275.com
Youtube: http://www.youtube.com/jeffjohnsphoto
Twitter: http://twitter.com/jeffjohnsphoto
Current: http://current.com/users/jeffjohns.htm
2009 Eddie Adams Portfolio: http://www.eddieadamsworkshop.com
2009 Eddie Adams Multimedia: "Things Do Change"
LinkedIn: http://www.linkedin.com/in/jeffjohnsphoto
Sportsshooter Member Page: http://www.sportsshooter.com/members.html?id=8342
Sportsshooter Article: http://www.sportsshooter.com/news_story.html?id=2389
Santa Barbara Independent Interview 2009: http://www.independent.com/news/2009
Santa Barbara Independent Interview 2010: http://www.independent.com/news/2010
—————————————————————————————————————————————————————-
All media © Jeff Johns, 2010